Controversial Gengetone Group Ethic Entertainment has responded to Rapper Henry Ohanga popularly known as Octopizzo after he declined their request for a collabo.
In what looks like a hit back to the Namba Nane rapper, Ethic, through their official Twitter account revealed that they politely requested Octopizzo to be part of their upcoming album but he refused.
"We gave Octopizzo the privilege to be on our super dope album but hakuona vision, truth ni numbers ziko but ange kuja tu na zile mathogothanio zake, video for the song wasn't part of the plan…all in all watch out June 13th album dropping," they posted.
It was earlier on reported that Ethic's manager had reached out to Octopizzo with a request to have him join the group for a project geared towards their new album.
"Good evening Octo, ni manager wa Ethic hapa, tuna project moto hapa tunataka urukie, (Good evening Octopizzo, this is Ethic's manager. We have a project that we would like you to be part of it)" the request read in part.
Apparently, it all started when the Wakiritho rapper threw a shade at the group after they claimed that Khaligraph Jones is greater than him.
READ ALSO: Ethic Entertainment's SWAT beaten by mob in Umoja
"Ni ju nilikataa kurukia project ama? But si ni life?(Is it because I refused to be part of your project?)" reacted Octopizzo.
Ethic Entertainment is set to drop their debut album this month. Titled Bad Man, Bado Odinare, the maiden project in their catalogue will be distributed by AI Records, a Kenyan subsidiary of Universal Music Group. Reports have hinted that the anticipated album has a number of collaborations from Bensoul, Khaligraph Jones, and South Africa's lady Sho Madjozi.
Song controversy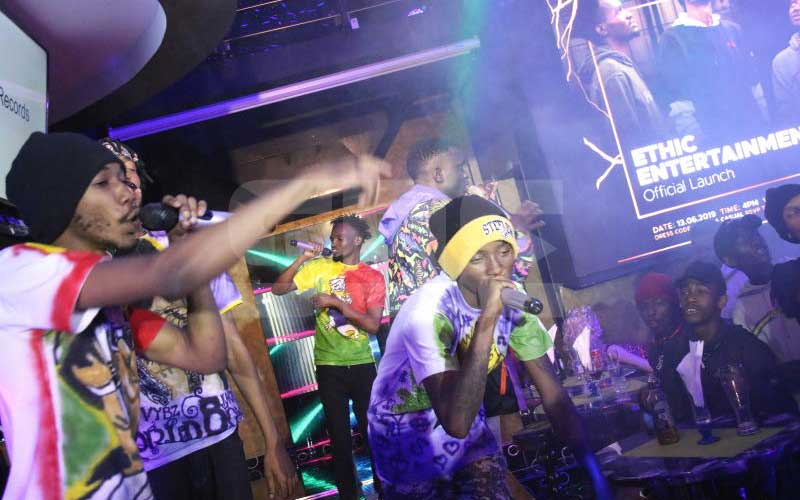 Ethic has been in the headlines a couple of times and mostly, not for so the right reasons. In April this year, the group released a song titled Soko but it left a bad taste in their fan's mouths, forcing the group to apologize for releasing the song. According to numerous complains on social media, the song in question seemed to advocate for rape and Pedophilia.
This caught the attention of Kenya Film Classification Board (KFCB) CEO Ezekiel Mutua who joined netizens in calling out the music group on the said song, on grounds that it promoted rape and prostitution. Mutua described the song's video as 'despicable immorality' that should be condemned by all right-thinking people.https://www.sde.co.ke/